Crown Bridge
Definition
A motif of three consecutive amino acid residues and two H-bonds in which:
Dihedral angles are 1,2-sub-αRαR (sub-αR encompases the bottom left quadrant of the Ramachandran plot)
H-Bonds are made between the NHs of both residue-1 and residue-3 and the same δ-negative acceptor atom.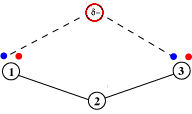 Sub-categories
The sub-categories refer to the acceptor atom: main-chain (mc) or side-chain (sc), and, for graphical presentation purposes, whether it is N-terminal or C-terminal to the tripeptide.
mc-acceptor (N-term)
sc-acceptor (C-term)
mc-acceptor (N-term)
sc-acceptor (C-term)
Reference
Leader and Milner-White, Proteins 83:2067–2076 (2015)
Comments
1. Although the electron acceptor of Crown Bridges can also be hetero-atoms or water molecules, 'Motivated Proteins' only includes those that are part of the polypeptide chain.
2. Crown Bridges include all examples of Crown Bridge Loops.
Occurrence
Crown Bridges are relatively rare.